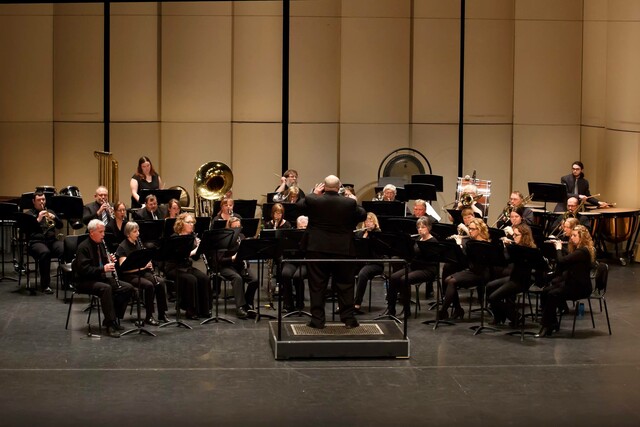 For players from 3 to 50 years of experience, the Monday Night Band is a traditional concert band which performs at music levels of 3 and 4, the level of most high school bands. Sitting at approximately 50 in number, many members in this group got their start in high school bands and have decided to become involved with music once again. The Monday Night Band is an opportunity for musicians to reconnect with their musical abilities and perform their passion as a part of the Red Deer Community Band Society.
Director
Glen Traquair
Glen has lived in Red Deer for the past 20 years. He was previously the director of bands at Notre Dame High School, as well as the band director at St. Thomas Aquinas Middle School. Before moving to Red Deer, Glen taught in Saskatchewan for five years. Glen holds a Bachelor of Science in Secondary Music Education from the University of North Dakota at Dickenson, and a Fine Arts Diploma in Conducting Wind Literature from the University of Calgary. Glen is a member of the International Band Master's Fraternity Phi Beta Mu and was inducted into Bandworld's John Phillip Sousa Honour Society. He is also an accomplished saxophonist and clinician. Glen has directed the Monday Night Band since September 2001, in addition to a four-month stint in the spring of 2000, making this Glen's nineteenth year as director.
Time & Place

The Monday Night Band meets weekly on Monday nights from 7:00pm to 9:00pm at Notre Dame High School in Red Deer.  
For more information on the Monday Night Band, please contact Michael Mann, Director of Bands
403-346-3911 or info@reddeerroyals.com